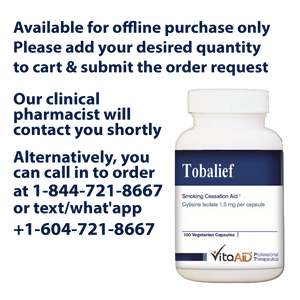 VitaAid Tobalief
Regular price
$0.00
$0.00
Unit price
per
Natural Smoking Cessation Aid
Tobalief contains cytisine - a natural nicotine receptor partial agonist (NRPA).
Clinically shown to yield higher success rate in smoking cessation than other agents, such as NRT, varenicline, and bupropion.
Higher compliance - short course of treatment (25 days) & very well-tolerated.
More cost-effective compared to other smoking cessation medications.
Cytisine is the only naturally occurring NRPA, extracted from the seeds of the plant Cytisus laborinum L. (golden rain acacia). It has been widely used as a smoking cessationaid in Europe for more than 40 years. Cytisine has also demonstrated potential anti-depressant and anxiolyticeffects via its actions on nicotinic receptors.1
Cytisine acts by relieving craving and withdrawal symptoms, while blocking the reinforcing effects of nicotine from cigarettes.2
According to a systematic review comparing cytisine with other smoking cessation aids 3 , cytisine is able to yield 0.449 absolute probability (ie. 44.9% success rate) of 1-year continuous cessation.4
Cytisine is generally well-tolerated. In fact, according to the systemic review, it did NOT significantly increase the incidence of side effects, such as headache, nausea, and other severe adverse effects, compared to placebo 3
Suggested Use:
Day 1 to 3: 1 every 2 hours; 6 tablets (9 mg) daily.

Day 4 to 12: 1 every 2.5 hours; 5 tablets (7.5 mg) daily.

Day 13 to 16: 1 every 3 hours; 4 tablets (6 mg) daily.

Day 17 to 20: 1 every 4 hours; 3 tablets (4.5 mg) daily.

Day 21 to 25: 1 every 6 hours; 2 tablets (3 mg) daily.
Caution:
Keep out of reach of children. Some people may experience changes in both taste and appetite, dryness in the mouth, headache, irritability, nausea, constipation, tachycardia, light elevation of the arterial pressure.
Consult a health care practitioner prior to use if you have hyperthyroidism; if you have an ulcer, ischemic heart disease, cardiac impairment, cerebrovascular disease, high blood pressure, renal or hepatic insufficiency; if you have diabetes mellitus; or if you have a history of psychiatric disorders or if you experience psychological distress.
Symptoms of an overdose include nausea, abdominal pain, vomiting, diarrhea, cold sweat, dizziness, disturbed hearing and vision, mental confusion, rapid heartbeat, difficulty breathing and marked weakness. May cause sleep disorders.
Do not use if you have arterial hypertension and advanced atherosclerosis. Do not use if you are pregnant or breastfeeding.
Simultaneous administration of cytisine and smoking could lead to nicotine intoxication.
Supplement facts:
Ingredients (per capsule):
Cytisine (isolate from Cytisus laborinum L.).......1.5 mg
Non-medicinal Ingredients:
Microcrystalline cellulose, silicon dioxide, L-leucine, pullulan/hypromellose (capsule)
References:

Han J, Wang DS, Liu SB, Zhao MG. Cytisine, a partial agonist of a4b2 nicotinic acetylcholine receptors, reduced unpredictable chronic mild stress-induced depression-like behaviors. Biomol Ther (2016). 24(3):291-297
Jorenby DE, Hays JT, Rigotti NA, Azoulay S, Watsky EJ, Williams KE, et al. Efficacy of varenicline, an alpha4beta2 nicotinic acetylcholine receptor partial agonist, vs placebo or sustained-release bupropion for smoking cessation: a randomized controlled trial. JAMA 2006;296:56–63
Leaviss J, Sullivan W, Ren S, Everson-Hock E, Stevenson M, Stevens JW, Strong M, Cantrell A. What is the clinical effectiveness and cost-effectiveness of cytosine compared with varenicline for smoking cessation? A systematic review and economic evaluation. Health Technol Assess 2014;18(33).
Schmidt F. Medikamentose Unterstutzung der Raucherentwohnung: Bericht uber Versuche an uber 500 Rauchern im Doppelblindversuch. MMW Munch Med Wochenschr 1974;116:557–64.
*VitaAid is offered available through professional clinician only.
*These statements have not been evaluated by the Food and Drug Administration. This product is not intended to diagnose, treat, cure, or prevent any disease.
---
choosing a selection results in a full page refresh
Opens in a new window.
Opens external website in a new window.