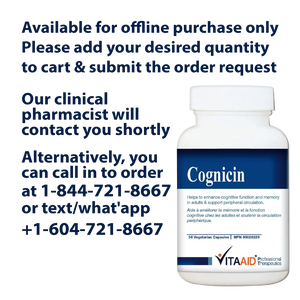 VitaAid Cognicin
Regular price
$0.00
$0.00
Unit price
per
Cognicin combines a synergistic blend of Huperzine A, phosphatidylserine and herbal remedies specifically formulated to improve cognitive and memory decline caused by age-related neuro-degeneration.
Contains comprehensive herbal remedies for improving peripheral blood circulation
Curcuminoids is clinically shown to reduce beta-amyloid accumulation in the brain caused by inflammation
Phosphatidylserine plays a role in stabilizing membrane function of neurons and protecting the membrane against oxidative stress
Huperzine A is clinically proven to slow down the progression of Alzheimer disease by enhancing acetylcholine levels in the brain and augmenting activities of endogenous cellular antioxidants
Suggested Use:
Adults - Take 2-3 capsules per day, or as directed by a health care practitioner
Caution:
Consult a health care practitioner prior to use; if you are taking medications for diabetes, high blood pressure, or seizures; if you have gallstones; or if you have stomach ulcers or excess stomach acid. Consult a healthcare practitioner if you experience symptoms of nausea or dizziness.
Do not use if you are pregnant or breastfeeding; if you have a bile duct obstruction; if taking products that affect blood coagulation (eg. blood thinners, clotting factor replacements, acetylsalicylic acid, ibuprofen, fish oils, vitamin E) as this may increase the risk of spontaneous bleeding.
Supplement facts:
Ingredients (per capsule):
Ginkgo Extract 50:1 (Ginkgo biloba) (leaf).....60 mg

(24% ginkgo flavonglycosides, 6% terpene lactones)
(equivalent to 3000 mg dried herb)

Phosphatidylserine.............................50 mg

(from organic phosphatidylserine-enriched soy lecithin)

Huperzine A (from Huperzia serrata) (whole plant).....100 mcg

Curcumin (from Curcuma longa) .....133 mg

(root, rhizome) (C3-Complex®)

Rosemary Extract 6:1 (Rosmarinus officinalis) (leaf).....60 mg

(6% rosmarinic acid) (equivalent to 360 mg dried herb)

C3-Complex® is a registered trademark of Sabinsa Corp.
Non-medicinal Ingredients:
Silicon dioxide, L-leucine, pullulan/ hypromellose (capsule)
*VitaAid is offered available through professional clinician only.
*These statements have not been evaluated by the Food and Drug Administration. This product is not intended to diagnose, treat, cure, or prevent any disease.
---
choosing a selection results in a full page refresh
Opens in a new window.
Opens external website in a new window.